This System Is About To Disrupt Startup Recruiting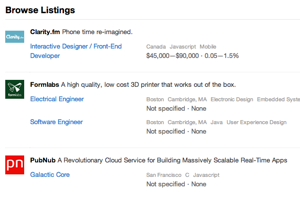 It is no secret that recruiting talented engineers and designers is one of the most difficult tasks for a startup in Silicon Valley and pretty much anywhere else. All the good engineers are either already taken or working on their own startups. That is why recruiters charge as much as $25,000 per every successful hire they find for your startup.
However, not all startups work out, and that is where AngelList is seeing a big opportunity to disrupt the recruiting space. The AngelList job boardis set up so that startups can recruit entrepreneurs whose companies weren't as successful and are now looking to join a more successful team. Within 3 weeks of launch, AngelList has already made 900 introductions between startups and entrepreneurs looking to join another startup according toNaval's interview with Jason Calacanis (I highly recommend you watch this!). Here is what makes this job board disruptive:
It's Free
Enough said. Most engineering job boards, including Stack Overflow and[Github, can cost anywhere from $350 to $1,000 per month. If your startup chooses to use a recruiter, you can end up paying as much as $25,000 per hire. In contrast, the AngelList is free (for now and likely for a while in the future), so there is absolutely no risk involved in posting a job there.
No Recruiters
The lucrative recruiting fees guarantee that as soon as you post a technical job on a job board such as Stack Overflow or Github or even Craigslist, you will be contacted by a recruiter trying to convince you to hire them. Good engineers are also bombarded by recruiters trying to sell them out to the startups they're working with.With the AngelList job board, startup CEOs are connected directly with candidates. No recruiters allowed.
Better Startup Candidates
Engineers and designers looking for jobs on AngelList are likely entrepreneurs who've started their own company before. That means they can self-discipline themselves and get work done without much direction or management, which is a really important quality for people working in startups. They will also be an important part of the team, giving their valuable opinions andexpertisefreely.
Transparency
Startups that post a job on AngelList are incentivized to list the salary and equity amount offered for each position. Those that post this information will be listed on the top. This is good for the job candidate (they don't have to waste time interviewing at companies that have bad deals for them) andalso creates an arbitrage opportunity for smart job seekers in the short term - they can get really good deals.
It's Simple
The AngelList job board is in the Hot or Not format. The job candidate simply presses the "Interested?" button, and if the company is also interested in the candidate, the two get an intro. It's also pretty fun to go through a list of startups /[candidates, and just quickly say whether you like them or not based on their AngelList profile. No application, no resumes. Everything is based on the company's and the job candidate's simple AngelList profile.
Have you tried the AngelList job board? What do you think?
](http://angel.co/talent/candidates/)
](https://jobs.github.com/post#create)