This Startup Just Got Biebered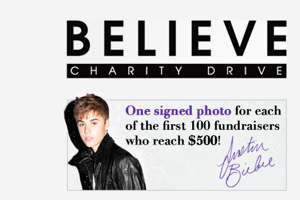 UPDATE:Make sure to read thefull story on StayClassy WITH NUMBERS according to the StayClassy Founder and CEOScot ChisholmHERE.
The Invisible Children organization launched an insanely viralKony 2012campaign to draw attention to the violent leader of the Lord's Resistance Army in Uganda,Joseph Kony,publiclyprompting for his arrest and asking for donations for the children soldiers.
Since launching on Tuesday, the Kony 2012 video has gotten over 65 MILLION views with celebrities like Rihanna, Ellen Degeneres, and yes, Justin Bieber (the most popular celebrity of them all) tweeting their support and many others joining under the #stopkony hashtag. You can read more about Invisible's Children brilliant social media strategy here and by googling those key words, as the campaign has beenextensively covered by many notable publications at this point.
What's interesting about the campaign for the startup world, is that Invisible Children used startup StayClassy.org as their platform of choice to collect donations. StayClass has been around for a while, originallyfounded in 2006, raising$1.25 million in debt funding back in 2010, and being covered in many popularpublications, but they have never enjoyed the success that the virality of the Kony 2012 just brought them - just check out the 54,000 likes on theKony 2012 StayClassy page!
Before Kony 2012, StayClassy was averaging around 70 backlinks on Twitter. Now search Twitter for stayclass.org, and you'll see all kinds of people raising funding for Kony 2012 or their favorite charity using the StayClassy platform and tweeting about it every few minutes (the rate was way higher on Thursday and Friday of last week, as Kony2012 was going truly viral). Here are some of the tweets from people raising funding: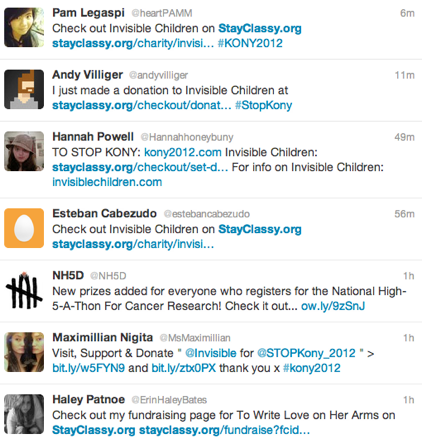 Justin Bieber has been using StayClassy's platform since November of last year as part of hisBelieve Charity Drive, where fans are urged to use StayClassy to select their own charity to raise money for. The first 100 fundraisers to reach $500 get a signed photo from Justin Bieber himself. To date, the Believe Charity Drive has raised over $1,000,000. Considering StayClassy's business model is charging 3% of every donation according totheir Angel List profile, with Bieber's charity drive and the Kony 2012 campaign, they're doing pretty well.
And in case you missed it, here is Bieber's tweet about to #stopkony:
it is time to make him known. Im calling on ALL MY FANS, FRIENDS, and FAMILY to come together and #STOPKONY -youtu.be/Y4MnpzG5Sqc

— Justin Bieber (@justinbieber) March 8, 2012


The only question is, can StayClassy continue to maintain their position as THE mainstream platform for charity fundraising?