Newborn Baby Becomes Hottest Startup On AngelList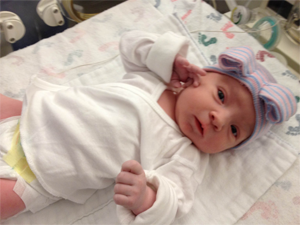 Today's fasted growing startup is … a baby! While most people wouldn't view their newborn baby as a business, Hunter Walk, the father of Astrid, thought it would be funny to set up a profile for his newborn. Some pretty influential Silicon Valley angel investors are posting comments on the baby's wall. The most common comment revolves around being a "seed investor" since this is an insanely early stage startup.
If you happen to be an investor, I highly recommend you get in on the baby action as early as possible. I'm not quite sure how much money they're raising, but just think of the possibilities of getting ownership in another person. While the terms are not being disclosed, we're hearing that investors could get paid dividends from all future earnings of Astrid. Given the parents influence, I'd say that there's a good chance this baby will be a money-making machine.
If you want to get in on what is poised to be the hottest startup this year on AngelList, you should go follow the baby now and see if you can get an introduction to the founders.