How To Create Your Own Luxury Jeans Line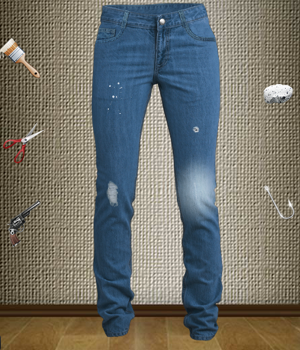 While watching live LAUNCH demos on stage yesterday and tweeting with the #Launch hashtag, I noticed a lot of people raving about LAUNCH demo pit startupGetWear. I had to walk over and see what the big deal was, and I was notdisappointed…
GetWear, co-founded by Yaakov Karda who graduated with a Fashion Marketing degree from a design school in Milan, makes it really easy for users to create a fun customized pair of luxury jeans. The jeans start at $99 and go up in price as customizations are made, currently selling at an average price of $125 per pair according to GetWear CEO Tatyana Kanzaveli. Currently, GetWear keeps over 50% of the sale price as revenue, but these margins should go up as sales increase.
GetWear's production of jeans is run in India in a dedicated factory by Nikhil Bafna, who was Yaakov Karda's classmate in Italy and is GetWear's VP of Production (yep, this team is super connected). The team has employed "a unique parametric pattern making system that produces ready for cutting patters in a matter of seconds" according to an interview with Yaakov Karda in the expert Mass Customization blog. For consumers, this means they can get their custom jeans in under 2 weeks (the team plans to reduce the timing to 1 week). Returns are absolutely free, so there isn't much risk involved for the customer in ordering the jeans online.
The viral aspect of GetWear, however, is that customers can earn $10 if someone else buys their jean design, so yes, you can create your own luxury jean line and actually earn money selling it to others. According to their site, 1925 jeans have already been designed by 314 designers since the company launched four weeks ago. Designing jeans is super fun - my favorite feature is shooting the jeans, so make sure to try it out!
Looking at the product, some people have already mentioned that it does not look like a startup. That is because the team is made of perfectionists who took 3 years to build GetWear! This is clearly paying off, as people stopping by the GetWear table at LAUNCH were clearly impressed.
The one thing holding GetWear back in this competitive jeans market is whether they're able to do the necessary marketing to get GetWear recognized as an mass consumer jeans brand.