Sue This: 10 Legal Startups To Keep You Out Of Trouble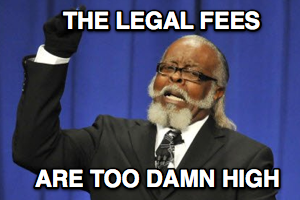 Legal prices keep going up and up even though the supply of lawyers keeps going up and the economy keeps going down. If you're interested in why this is happening, read this great Quora answer on the subject. To me, this just indicates that the legal profession is ready for some serious disruption. Here are some startups that are working to bring a little bit moretransparency to the legal market:
LawPivot
LawPivotis Quora for legal advice from real lawyers.Potential clients post a legal question, lawyers answer, and clients can then follow up by actually hiring the lawyer if they need to. LawPivot has raised[$1.6 MILLION in fundingas of December 2011 with Google Ventures being the lead investor.
Lex Machina
Lex Machina is applying big data to the law. Their core product is a SaaS intelectual property litigation data and analytics, which they sell to law firms, companies, and consultants. As we've seen a lot in the news recently, patent lawsuits are only increasing - In August 2011, there were 294 patent lawsuits, 8% of which were mobile related according to Techcrunch. It also seems like the price tags on these lawsuits only get higher and highter and Lex Machina is very well positioned as a player in the $15 BILLION / year legal tech market. Lex Machina has raised close to$1 MILLION in fundingand is currently[on AngelList.
LexSpot
LexSpot is ZocDoc for lawyers. Simply enter your legal headache and your location, and book an appointment with a lawyer nearby. Each lawyer's page includes reviews, fees, bio, and more. The team is based in the Harvard iLab and is made up of a former Google developer, a Harvard MBA who previously worked at ZocDoc and Goldman Sachs, and an actual lawyer. You can learn more about LexSpot[on AngelList.
LegalReach
LegalReach is a LinkedIn for Lawyers. Lawyers can list their achievements, including cases they've worked on, referrals they've received, and promote blog posts and articles they were written in. LegalReach has raised seed funding from AngelList founder Naval Ravikant and Cyan and Scott Banister according to[their AngelList profile.
AttorneyFee
AttorneyFee is Kayak for legal services. With AttorneyFee, you can instantly discover and compare prices for hunders of local attorneys. One of the co-founders of AttorneyFee is a PhD in Artificial Intelligence who previously worked at Microsoft on Bing and Amazon before that according to[their AngelList profile.
ZipCourt
ZipCourtis an online courtroom that can handle a range of disputes. The decisions made in ZipCout are binding and enforceable. Chris Kyriacou, a former litigation counsel at Apple, has joined the ZipCourt team a few months ago according to[their AngelList profile.
Legal FaceOff
Legal FaceOff, which makes me think of Judge Judy or one of those fun court tv shows, is actually a web-based solution for mediation and arbitration cases. The team plans to start with the small claim court market in NYC and then scale operations worldwide eventually. You can learn more about Legal FaceOff (still not sure this is a good name for a mediation platform)[on AngelList.
General Standards
General Standards, still in beta, is building a product that lets you "rent" legal agreements online. For example, a privacy policy for your website costs $5 per month and is kept up to date for you. This Australian-based startup has developed a suite of the most common documents used by Australian startups and small business to be used as a general standard as a start. General Standards is part of theYork Butter Factoryand is also[on AngelList.
LawGives
LawGivesis developing a platform to connect clients with lawyers and unbundled legal services. With LawGives, customers can ask public questions and get answers from lawyers and legal students, create a confidential case and find the right legal professionals and services, and browse a library of legal documents. LawGives is a participant in Stanford's Startup Accelerator, StartX, and you can find them[on AngelList.
Quegal
Quegal, still not launched, is a U.K. based pay-as-you-go legal advice service. They're building iPhone and Android apps in addition to their website so customers can easily ask questions and get answers. Think LawPivot, but paid and in U.K. According to [their AngelList profile status, "the recent fundamental change in UK legal services legislation provides us with an unprecedented first mover opportunity in this niche".
The Future Of Law
Law is one of those niche markets that has a ton of untapped opportunities for startups, mostly because most lawyers are not very technical, so they can't build the solutions they need. The legal profession is also very traditional and not very quick to change, which also makes this a very challenging opportunity.
Do you think the Legal profession will be disrupted any time soon? What kind of services will be most disruptive to the legal profession?
](http://angel.co/quegal) ](http://angel.co/lawgives) ](http://angel.co/yorkbutter) ](http://angel.co/legal-faceoff) ](http://angel.co/zipcourt) ](http://angel.co/attorneyfee) ](http://angel.co/legalreach) ](http://angel.co/lexspot) ](http://angel.co/lex-machina) ](http://www.sec.gov/cgi-bin/browse-edgar?company=law+pivot&match=&CIK=&filenum=&State=&Country=&SIC=&owner=exclude&Find=Find+Companies&action=getcompany)