Amended JOBS Act Passes The Senate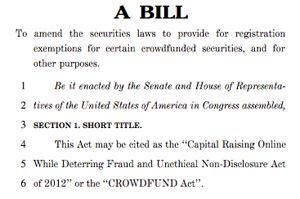 After passing through the house, the Senate just approved an amended JOBS Act that will move on to the House for approval and then the President who has already voiced his support for the bill. Despite the ongoing criticism of the bill, opponents found it difficult to turn down a bill called "JOBS Act" … who doesn't want to support jobs?
As we wrote yesterday, it's pretty difficult to predict what the impact will be, but within days, crowd-funding for equity investments could be legal. Get ready for entrepreneurs who publicize the fact that they are actively fundraising. Also prepare for a large number of platforms to emerge that enable startups to quickly accept payment from investors.
Crowdfunder, one of the many companies vying to become a leader in this space, already claims that they have $13.5 million in investments ready to be committed to deserving entrepreneurs. The only question that remains unanswered is: how large will crowd-funding become once this act is approved? We'll have to wait and see but today the future of Crowd-funding has just passed another major milestone.