Instagram Private Messaging Explodes With instaDM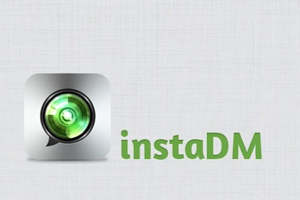 You know what's better than commenting on people's Instagram photos? Sending them a private message about the photo and sparking a conversation! That is whatinstaDM helps you do, and it's been growing in popularity under the radar.
Search for instaDM.com on Twitter, and people aredefinitely talking about it. There were 33 references to instadm.com on Twitter just yesterday. If you google "instaDM", you will find a large list of Tumblr posts with #instaDM as a tag and photos of people's iPhone home screen with instaDM on it.
The founder of instaDM,Cristian Castillo, has previously created the 45th most visited site in Mexico and sent 10 million SMS messages through it, so there is no doubt that he can execute again with instaDM, which he seems to be doing.
Yet, this "little known" app (it hasn't gotten very much coverage) has only 2 followers on Angel List. Instagram already has 20,000,000 users, so the market size for instaDM is only growing. Cristian Castillo plans tomonazitethe app by either selling ads or selling the app in the Apple app store. And, as he mentions in the instaDM Angel List profile, instaDM could be an attractive target for acquisition for other messaging platforms or even Instagram itself.
The one big risk to instaDM, of course, is if Instagram decides to build this messaging functionality into Instagram themselves! In the worst case scenario, instaDM is an arbitrage opportunity, which is why the company should come up with a monetization solution quickly. What do you think of instaDM?