Nothing Like A Fun Game Of Hipster Hunting!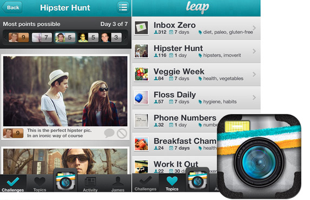 Have you ever wanted to take photos of hipsters around San Francisco just to prove to your friends that you walk by more hipsters on a daily basis than they do? No? Me neither! However, this is one of the default challenges in the new iPhone app, Leap, which makes it easy for anyone to challenge their friends to do anything from spotting bad hotel art to keeping your inbox at 0 for the week to working out to eating the most bacon.
Leap cleverly launched on Leap day (2/29/2012) and has already gotten some traction, adding 8,000 users and 5,000 challenges within the first 5 days of launching. The app itself is Facebook Login only and, to participate, you need to invite your Facebook friends to compete. To play, you can select some of the pre-populated challenges in the app or create your own, add friends, and post photos to get points toward completing the challenge and winning.
Leap also asks users to login with Twitter, and users can easily Tweet photos of completing the challenges and more importantly, when they win the challenges. Just yesterday, Leap has gotten over 520 backlinks on Twitter - just search for leapfor.it on Twitter and see for yourself!
The one thing that stood out to me when trying out the app was that it was impossible to see photos other have taken during their challenges. You really have to set up your own challenge and invite your own friends to really have fun with this app (it's not for browsing photos!). That is clearly working in their favor, as they've really optimized the viral loop of inviting friends to the app.
The only thing going against this app is the name, as it is really hard to find "Leap" or any news stories about Leap via Google. Who needs Google, when you have word of mouth, Twitter, and Facebook though! The one thing the team does need to optimize for is how the photos users take are tweeted - many of them have just the link to the photo without any additional text, which looks like spam. They should add the challenge name in with the link.
Leap participated in the Ohio-based incubator The Brandery, and have gotten 54 followerson Angel List to date (which is much lower than the number of their Facebook followers - 1,707!).
Have you tried Leap? What do you think about challenging your friends?!
If you want to be the first to know about Leap and other hot startups, make sure to subscribe to our email on the right!