Here's Another Photo Startup Going BOOM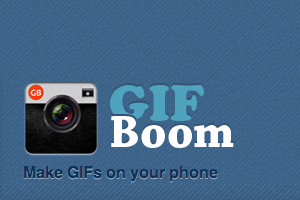 There areseveral startupsworking on good mobile video-sharing solutions, but surprisingly, a different type of video has really hit it off with consumers. Animated GIFs!
We've covered a few startups that are working on a cool mix between photos and gifs (includingCinemagramandKinotopic), but we couldn't help but noticed the explosive popularity ofGifBoomin the past few days, an iOS and Android app that makes it super easy to create and share animated GIFs.
GifBoom has reached the #14 spot in the Top Free Apps in the Photography Genre and #307 Top Free App in the U.S. Apple app storeaccording to AppData. They've also had over 50,000 downloads on Android. Search [Twitter for gifboom.com, and you'll see teenage girls all over the country tweeting Gifs non-stop several times a minute! According to our estimates, Gifboom.com has gotten over 14,000 of these tweets yesterday, up from 2,810 on Saturday.](https://twitter.com/#!/search/realtime/gifboom.com)
And, in case you're not convinced of GifBooms big BOOM, check out their Compete graph:
| | |
| --- | --- |
| ![](/assets/img/posts/2012/03/gifboom.com-54194.0-UVs-for-February-2012-Compete-1.png "gifboom.com 54,194.0 UVs for February 2012 | Compete-1") |
According to Compete, GifBoom exploded from just over 7,500 in January 2012 to over 54,000 in February 2012. Expect this number to be MUCH higher for March based on their current Twitter volume. If this is not the steep part of the hockey stick, I don't know what is.
While animated gifs have been super popular around the web for a while (think reddit), making them required knowing some Photoshop skills. Back in October 2011, The Next Web pointed outin their coverage of GifBoom that making .gif files is faster than making someone watch a video clip and it's a great place to express yourself - this might be one of the reason GifBoom is taking off with consumers.
Funny enough, the same article finished off with the following paragraph:
"Animated gifs are certainly a niche interest, but are very popular on sites likeTumblr. With the GifBoom app, it's really simple to create the animations but it remains to be seen if animated gifs can get anywhere near as popular as photo or video sharing."
It sure looks like the time for animated gifs has finally come. Do you think it will be as wide-spread as photo-sharing someday really soon?