MOOve Over: These 10 Farming Startups Are No Joke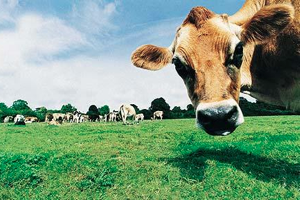 At yesterdays CNET panel, Dave McClure of 500 Startups told the audience that he found farm management software startupFarmeronon AngelList with the help of AngelList founder Naval Ravikant, who was also on the panel. The reason Farmeron really stood out to McClure was because it was founded by Croatian programmers who were sons of farmers building this farm management tool - pretty crazy. The story gets even crazier for these founders considering they were asked to join 500 Startups in Silicon Valley and are now funded by U.S. money.
So to rehash - two hackers in Crotia who grew up on a farm build a farmer management tool, list their startup on AngelList, get found by McClure, come to U.S. and get funding. Pretty great story. And, the funny thing, as Dave McClure mentioned, the Farming space is now getting pretty crowded with more startups competing for this lucrative niche space. So we decided to take a look at the Farming tag on AngelList and see what else is there. Here are some of the startups we found:
Grow the Planet
Grow the Planet is Farmville for real farmers. The site helps you grow your own vegetables in a smart, fun, and social way by using the Grow the Planet visual garden design and management tools that help you grow your garden wherever you live. This Italy-based team launched atTechcrunch Disrupt in September 2011after receiving over $85K in seed funding. Learn more about Grow the Planet[on AngelList.
BumperCrop
BumperCrop provides a gateway for the 40 MILLION home food growers who want to buy, trade, and sell their produce in their community. Apparently home food growers grow $18 BILLION worth of crops annually. The team plans to monetize their platform by offering a freemium based lead system for sellers of homegrown food and data mining the interaction between consumers and growers. BumperCrop won 2nd place in this years SXSW StartupBus competition. You can learn more about BumperCrop[on AngelList.
Blue River Technology
Blue River Technologyuse computer vision to identify weeds in organic crop fields and then selectively eliminate them using very hot organic oil. Their product mounts behind a tractor, and a few weeks ago, they've successfully tried it on lettuce fields - see photos[on AngelList!
Mobile Farming Systems
Ok, so I'm going to be honest. I'm not sure I understand what this Southern California startup is doing, but it sounds really cool. So instead of trying to summarize, I'm just going to copy and paste [their AngelList description:> "MFS is an agriculture technology company that focuses on two areas of growth.
Our Mobile Grow Systems allow for accelerated growth cycles in any environment. Of particular interest is the development of an "Urban Farm in a Box" system that will allow entrepreneurs and veterans the opportunity to start an Urban Farm business.

A residential hydroponic is under development. This easy to use, patio-sized grow system will be offered along with recurring sales of seedlings and nutrients."
They also have really cool photos of stuff on AngelList, so definitely check it out.

Dolphin Engineering

PreDiVine (Predicting Diseases of Vine) uses wireless sensor networks to predict the evolution of diseases and suggests just in time and targeted treatments. The data is accessible to vineyard growers through a simple web-interface. Apparently, diseases of grape plants alone account for economic damages of more than $5 BILLION / year in Europe. Check out this Switzerland-based startup[on AngelList.

Agrisaurus

Agrisaurus helps you design and maintain a perfectly executed edible garden. Their gardent management ools includes garden-map AI assistance, HTML5 canvases, cloud databasing, Gantt chart timelines, automated reminders, real-time weather data, and pests and disease diagnosis. Learn more about the company[on AngelList.

Agrocom Software Technologies

Agrocom is Quora for Asian Farmers. Farmers can ask questions and get answers from experts within 24 hours just by sending an email. Agrocom's product wasfeatured by the Food & Agricultural Organization of the United Nations a few months ago. Check out this Indian-based startup[on AngelList.

Feral Hog Solutions

Apparently there is an "ongoing proliferation of wild pigs" in the southeast, and the Alabama-based entrepreneur Julian Tyreeis building a system that combines science and technology to help landowners combat this problem. Sounds pretty cool to me, although I wouldn't know what to do if I ever came across a wild pig. You can learn more about Feral Hog Solution[on AngelList.

Precision Hawk

Precison Hawkprovides the capability to gather actionable, extremely high-resolution remote sensing data through the most easy-to-use, low-cost and reliable unmanned aircraft available today.The unmanned aircraft system, a small robotic plane, can collect extremely high-resolution remote sensing data with a minimum of effort and will provide invaluable, real-time data for such applications as land surveying, agriculture, security, forestry, chemical, and field conditions. Check out some of the amazing photos[on AngelList.

Hawaii Oceanic Technology

The Hawaii Oceanic Technologyhas a patented fish farming platform that allows operators to farm large quantities of fish in the open ocean using automation and remote control. Apparently farmed seafood output much double in the next 30 years to meet global demain, which means producing large quantities of seafood is a $75 BILLION market. Learn more about their platform, Oceansphere,[on AngelList.

Ok, so as Dave McClure states, Farming is getting pretty crowded. I think that's a good thing, since farming needs to seriously change and become a lot more sustainable.

What is your favorite farming startup?

Article image via The Telegraph.

](http://angel.co/hawaii-oceanic-technology) ](http://angel.co/precision-hawk) ](http://angel.co/feral-hog-solutions) ](http://angel.co/agrocom-software-technologies) ](http://angel.co/agrisaurus-1) ](http://angel.co/dolphin-engineering)](http://angel.co/mobile-farming-systems) ](http://angel.co/blue-river-technology) ](http://angel.co/bumpercrop) ](http://angel.co/grow-the-planet)