Don't Overlook This Startup That's Exploding Among The Pinterest Market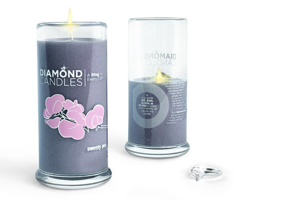 Just when you didn't think candles could get any more exciting, entrepreneur David Caytoncame up with a brilliant idea of … wait for it… hiding diamond rings in candles! A ring could be worth either $10, $100, $1,000 or the BIG prize of $5,000. All in a candle that costs under $25.
Needless to say, the concept has gone viral among housewives and single women all over the U.S. One fan even created a Diamond Candle Ring Swap Facebook page to swap rings of different styles and sizes found in the candles - the page has almost 5,000 likes! Other fans have taped themselves finding the ring and posted thevideos on YouTube. One of these videos has gotten over 30,000 views. Theofficial Diamond Candles Facebook page has over 93,000 fans right now.
Yesterday, Diamond Candles announced a St. Patty's Giveaway of a green candle for one fan, and people have been tweeting non-stop about it (part of the contest is to tweet about the contest, the other is to Facebook). With over 10,446 people entering the contest, the competition is getting serious.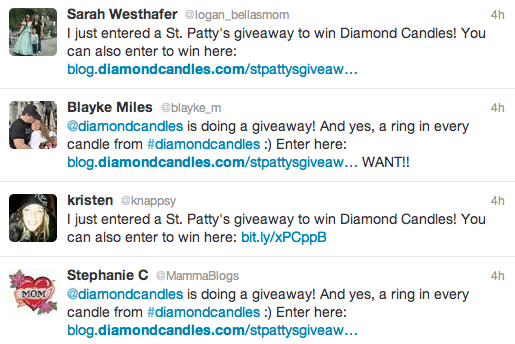 With this many fans, Diamond Candles is now filling over 10,000 orders per month, with an average customer spending $69,after just a little over 1 year of operations according to their Angel List profile status from 17 days ago. They are also able to retain 20% of their customers, who keep coming back for more candles.
The company has been bootstrapped to date (they launched on Valentines Day 2011, awww…), and they're going after the $2 BILLION candle industry, targeting women between the ages 20-50. Apparently the average household spends $15 a month on candles, not to mention candles are the default safe gift (who doesn't like candles? or diamond rings for that matter?).
Why do you think Diamond Candles are so appealing?