Data-Driven Weight Loss Startup Retrofit Raises $2.7 Million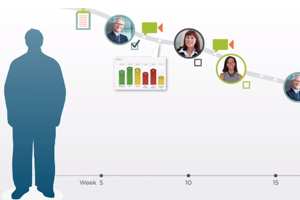 Jeff Hyman and his wife shared a life changing experience at an exclusive weight loss resort, where they were assigned to a team of experts who helped them change their mindset, focus on long term results, and reconstruct the way they ate and exercised. This life changing experience led Hyman to startRetrofit, a data-driven approach to weight loss that aims to recreate the weight loss resort experience for anyone.
When you sign up for the Retrofit program, you get three personal wellness experts - a registered dietitian, a behavioral coach, and an exercise physiologist - who help you build a personal weight loss program, a tracker clip and a scale that will track your activity wirelessly throughout the day, and weekly Skype calls with the experts to review the data from the scale and tracker clip (which you can also access online at any time).
This is a pretty intense and high-friction program, but considering Weight Watchers had a total of $1.8 BILLION in revenue in 2011, this is clearly a big opportunity that is possible to scale. That is why it is not very surprising that Retrofit just raised an additional $2 million in funding from I2A Fund, New World Ventures, and FireStarter Fund. Retrofit previously raised a seed round of $700,000 in late 2011.
Hopefully Retrofit uses some of this funding to improve its customer on-boarding experience. The Retrofit website does not state how much the program costs and has no way to register for it online, so every potential customer needs to call a number that is answered through an impersonal automated system to get more details. I tried calling twice this morning, and nobody answered - I was asked to leave a message. This is from a company that claims to have experts available for you when you need them - not a good first experience.
The cost is of course a very important part of the program for consumers. Consumers do have options from WeightWatchers, Jenny Craig, and a slew of many other weight loss programs, so they do shop around, especially in bad economic times.
Do you think Retrofit could become the next Weight Watchers?