This Startup Is Targeting Brazil's Exploding Middle Class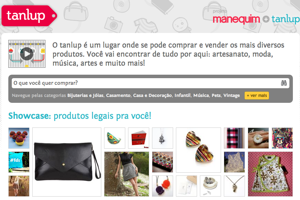 With it's growing middle class, Brazil is becoming the hub for commerce with an expanding base of consumers who can purchase luxury goods. An estimated 35 million people joined the middle class between 2003 to 2009, and 20 million more are expected to be included by 2014 while unemployment is at a relatively low 6.5 percent.It is therefore no surprise that cool startups are popping up in places like Sao Paulo, and Silicon Valley is noticing. After all,Brazil is one of the places Dave McClure's 500 Startups fund is looking to invest.
One Brazilian e-commerce startup, Tanlup, is looking to tap into this ever-growing opportunity by providing aBrazilian version of a mix between Shopify and Etsy, both very successful companies here in the United States. And they're seeing real results. They've gotten close to 200backlinkson Twitter yesterday, and you can see this number go by if you search forTanlup.com on Twitter, with tweets coming up every few minutes.
Tanlup makes it really easy to create a Shopify-like online store front for Etsy-type of customers likeartists like designers, illustrators, crafters, bands, painters, fashion designers and so on. The store-fronts have a great selections of really nice backgrounds that appeal to the creative types. Like Shopify, Tanlup monetizes their platform by offering a paid plan. For 15Braziliandollars (about 8.60 in U.S dollars), you can post unlimited products and have advancedcustomizablefeatures for your store. Check out theirbeautifulvideo here:
Although Tanlup has only 5 followers on Angel List, they are much more popular with consumers. They have 5,496 followers on Twitter, 5,663 Facebook fans, and 8,000 monthly active users on their Tanlup Stores Facebook app, which makes it really easy for the seller to create a Facebook store from their Tanlup products.
What are your thoughts onBrazilianstartups?